Essentials Apps to Download for Your iPhone or iPad
Tags >>
iPhone
,
iPad
,
Apps
News By
:
Maqsood Ahmed
February 2,2017
After receiving your iPhone or iPad, the first thing which pop-ups in your mind isto fill your phone with essential applications. So, we have created a list of the apps which you should have in your iOS to have maximum productivity out of your phone.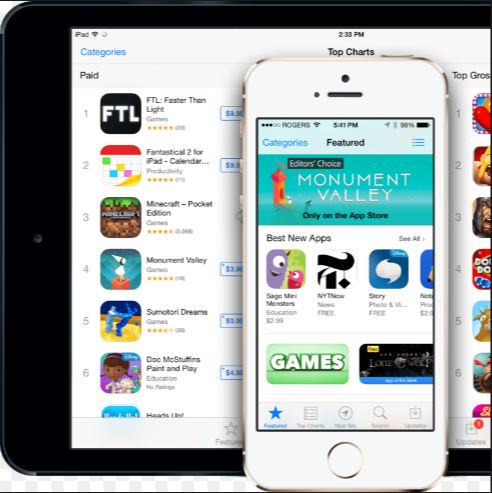 Let's have a look at the apps…
FiLMIC PRO
If you want to create high-quality videos with great control over quality of video, then FiLMIC PRO(€7.99) is essential for you, it supports 4k in the iPhone 6s/7/plus and external microphones.
iMovie
It enables you to pick the desired part of clips, put them together, and create a video. iMovie(€3.99) is free when you buy a new iPhone. It comes with few transition effects and some sound effects.
GarageBand
If you want to create your own sound track, not having a music background, then you can do so with GarageBand (€3.99). It comes free with new iPhone. It's virtual instruments can create a track with classical, rock, electronic or emotive strings.
iTunesU
iTunesU (free) contains over 1 million free downloadable educational content, videos, and lectures from renowned names such as Smithsonian Libraries, Stanford, MIT and the University of Oxford.
Slack
Slack (Free) has become a very big deal for businessmen with a great Apple Watch app, it's like a private social platform to manage the business with your team. It helps in tracking projects with updating the expenses, sharing files, messaging with one another and in groups.
Ulysses
Ulysses a great text editor enables to write reviews, novels, scripts, features and more with simple keystrokes. Ulysses was firstly available on Mac, then on iPad and now on iPhone too.
Airmail
Airmail which was available on Mac and now on iPhone, Airmail enables to send details to other apps such as Evernote, Fantastical 2 and Deliveries. Facility of attaching files from cloud services, message snooze capabilities and bulk editing.
Telegram
Unlike Slack,it offers messages, videos and images that can self destruct after a specified time period. Telegram(free) is delivering 15 billion well encrypted messages a day.
Duolingo
If you want to learn different languages with an engaging environment, Duolingo gamifies the learning and you can learn any of the 10 languages. You can compete with your friends to stay motivated.
We hope that you got a well managed list to download useful apps after buying your iPhone; apart from the above listed apps you might also like to download the following apps to have some fun and avail the facility.
Messenger
Evernote
Numbers
How to Draw Everything
Wunderlist
Trello
Tumblr
Mosaic
Amazon
Pinterest
---
---
Maqahmed , 2017-02-02 18:29:20 &nbsp Like : , DisLike : Comments : 0
---
---