All about Wireless charging
Tags >>
Wireless charging
Wireless charging is not the future technology now and the technology is no more in the fictions and it is a reality now practically used in charging the batteries of mobile phones. No doubt it is a big breakthrough in technology where the battery is charged from a charger but without any wires. Although currently iPhone does not have this facility but some other Android Smartphones facilitate the users with this wireless charging facility.
In this regard, Wireless Power Consortium (WPC) backs the Qi ("chee") standard and this is presently used in most Android devices wirelessly charged available in the market. The wireless charging technology works on the basis of magnetic induction, allowing power to be transferred from a mat to a mobile phone battery. In the Chinese terminology, the Qi (chee) means "air" or "spiritual energy flow," and the company was established in 2008 and serves 206 companies, including Microsoft, Samsung and Sony. All of the Smartphone's are on this list using Qi technology. However, there may be some changes possible in this regard.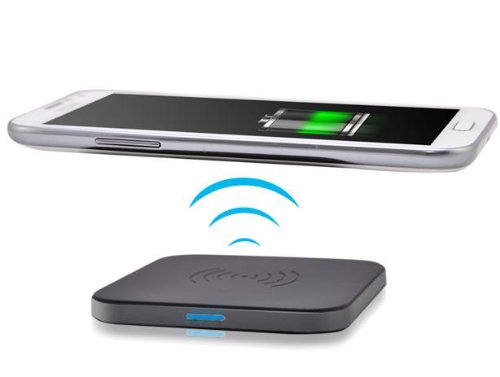 The other company providing wireless charging facility to the Smartphone is Power Matters Alliance (PMA) and the company is the only competitor of Qi. The PMA employs the same principle of wireless charging as Qi. PMA shook hands with Duracell in 2014 to provide the charging pads in select markets in the USA and with a plan to expand to other cities in 2015 with this new addition of charging pads at popular destinations. The technology has a great scope in all the mobile phones in near future as currently Samsung is already using this facility in their Galaxy S6.
The Samsung Galaxy S6 is the flagship of the company and has set a new trend by employing the wireless charging technology as a research and experimentation to see the workability of wireless charging. It is compatible with Qi and PMA wireless charging technology.
Motorola's Droid Turbo also offers built-in Qi wireless charging support which is available only through Verizon Wireless. The battery offers more than 9 hours of backup to the handset and the Droid Turbo as a feature to cancel the background noise while users are making the phone call.
The two other Android Smartphone's using wireless charging technology is Galaxy Note 5, compatible with Qi+ PMA and the LG G4 only supports the Qi wireless charging facility.
No doubt the wireless charging has a big scope and a good facility and gets you rid of binding you mobile phone with the charger for charging purposes. There is no hassle of wires and the user can walk around freely with the handset while it is being charged.
---
---
Maqahmed , 2015-12-23 05:56:16 &nbsp Like : 0 , DisLike : 0 Comments : 0
---
---